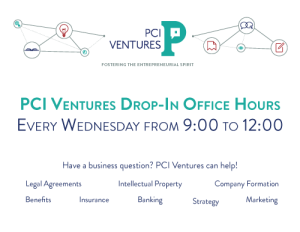 PCI Ventures Weekly Office Hours
PCI Ventures hosts drop-in office hours every Wednesday from 9:00 to 12:00 at the Pennovation Center (suite 229). Each week, a member of the PCI Ventures team will be on hand to answer business questions on topics ranging from company formation and legal agreements to benefits and insurance. Anyone is welcome to take advantage of the office hours, so please stop by!
PCI Ventures Partner Office Hours
In addition to the weekly office hours hosted by PCI Ventures, we are also pleased to offer office hours with our service provider partners. Please see below for upcoming sessions, and check back often as new service providers will be added regularly.
Upcoming:
Thursday, June 1st, 10:00-12:00 – Stephano Slack Accountants & Tax Advisors
Wednesday, June 7th, 9:00-12:00 – Ken Davis from Morgan Lewis
Thursday, June 15th, 9:00-12:00 – Sri Sriadibhatla from Ben Franklin Technology Partners